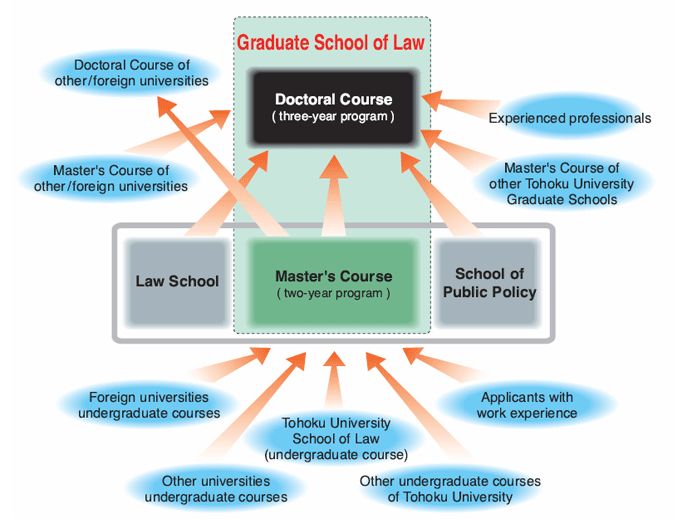 Overview of Tohoku University Graduate School of Law
 The course of study in the Graduate School of Law is divided into two pathways: the Master's Course ("First-Term, Two-Year Course") and the Doctoral Course ("Second-Term, Three-Year Course"). The Graduate School of Law offers various courses, most of which are small-class seminars, covering a wide range of fields within law and politics. In the Master's Course, under the supervision of their academic advisors, students are required to take courses according to their specialties and intellectual interests, acquire academic methodologies necessary for the carrying out of their research, and organize the results into a postgraduate thesis.
 In the Doctoral Course, students are required to further develop their research at a more advanced level, and complete a doctoral dissertation.
 Since academic year 2011, the Doctoral Course of the Graduate School of Law has offered three courses: 1. Legal and Political Studies Course, 2. Academic Career Development Course, and 3. Cross-National Doctoral Course.
Legal and Political Studies Course (Regular Entrance Examination)
This course is for those who want to become traditional researchers. Based on the Graduate School of Law's traditionally unique prioritization of academic research activities, the "Research First Principle", this course aims to foster researchers who will be able to contribute to the pressing internationalized issues of contemporary society. By drawing on the theoretical perspective of law and political science, and complimenting them with our "Research First Principle", we hope that participants in this course will go on to contribute to the research and policy fields of their chosen fields.
Academic Career Development Course
This course aims to foster Law School graduates or legal licensees to become academic researchers for education at Law Schools or practical professionals. In this course, excellent enrolled students may be hired as a fellow and may receive a certain monthly stipend by engaging in education activities at Tohoku University's Law School.
Cross-National Master's and Doctoral Courses (CNMC and CNDC): Double Degree Programmes
These courses, in collaboration with our overseas partner institutions, aim to foster young researchers and advanced professionals who can go on to be active internationally. CNMC and CNDC students will have both Tohoku University and partner institution's student statuses, conducting their research at both institutions. Ultimately, CNMC/CNDC students will be able to obtain a Master's/PhD degree from both institutions (a double degree).
Main courses of advancement for graduates (2002-2014)
Entrance into a
Doctoral Course, etc.
Entrance into the Tohoku University Graduate School of Law
Doctoral Course
Entrance into law schools
Entrance into other/foreign universities' Doctoral Courses
Government and
Public Sector
Ministry of Foreign Affairs of Japan
Ministry of Internal Affairs and Communications
Ministry of Education, Culture, Sports, Science and Technology
Ministry of Health, Labor and Welfare
Miyagi Prefectural Office
Kanagawa Prefectural Office
Okayama Prefectural Office
Sendai City
Yokohama City
Musashino City
Sendai Regional Taxation Bureau
Court of Law
Foreign government and municipal offices … etc.
Banks, security
companies and
insurance
companies
Bank of Japan
Japan Bank for International Cooperation
The 77 Bank
Sompo Japan Insurance … etc.
Firms and
corporations
NEC
Nippon Steel Corporation
Kawasaki Heavy Industries
Fujitsu
Chubu Electric Power
Benesse Corporation
Yuhikaku Publishing
Aeon Retail
Hitachi Transport System
Mitsui & Co.
Fujitsu Research Institute … etc.